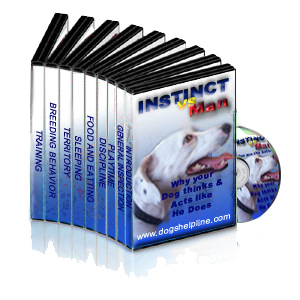 We may pamper our dogs like never before with pedicures, clothing, and big, cushy beds that are even nicer than our own, but we still know that we need to show our dogs who's really boss...

But do you know how to do that without alienating your dog?

Dog owners everywhere struggle with this question constantly, and the result is a world full of family dogs who claim the furniture, take front row at dinnertime, and generally rule the roost. Do you know how to interact with your dog every day in a way that establishes you as the leader of the pack but still your pooch's best bud?
Details about this, eating, playtime, discipline, training, and more are instantly available to help you create a warm, fun, loving, and peaceful environment between your entire family... including your canine companion.

Learn how your dog thinks AND how to work with that thought process rather than against it, and learn along with an entertaining, interesting cartoon presentation!
But.....

If you think that this is going to be some long, boring lecture...

If you think that you'll be drooling on your keyboard within 2 minutes...

If you think that your money is better spent at yet another obedience class...
You're Dead Wrong.....
"I used to think it was cute to tear apart mum's favourite scarf, but after she watched 'Instinct Vs Man' she now communicates with me at a whole new level. We finally understand each other. Thanks Johnnie."

-- Sparky
You've seen all of those other dog owners at the dog park and the vet's office.

They seem to have some sort of telepathic relationship with their dogs and relate perfectly to them. You've been through training classes, books, and everything else to try and help you and your dog achieve the same relationship. You're tired of spending money on things that work for a week and ends up with you red in the face from screaming at your dog... again. Why not improve your relationship by changing the way you relate to your pup on a daily basis, and learn how to do it in a fun, entertaining way without ever leaving home?

Here is just a fraction of what you'll find in this dog lover's dream audio visual presentation...

Learn:
Why You Can't Read Your Dog's Thoughts... But How to Come Pretty Close! (The secret is in the introduction!)

How Pampering Your Dog Can Sabotage Your Relationship. (Section 1)

How the "pack mentality" affects everything your dog does, from eating to sleeping and everything in between. (Section 1)

3 Exercises to Help Establish Yourself as the Alpha Dog. (Section 1)

Why you should never ever ever ever ever ever apologize to your dog. (Section 1)

2 Things That are Your Dog's Biggest Rewards... and are Right In Front of You. (Section 1)

How you can tell if your dog knows who's boss. (Section 1)

Why You Shouldn't Say NO... and what to do instead! (Section 1)

2 games that should be completely off-limits during playtime... and why. (Section 2)

1 Game That's Virtually Foolproof. (Section 2)

The biggest disciplinary mistake owners make. (Section 3)

Why You Should Never Hit Your Dog... it goes way beyond just violence! (Section 3)

Why your disciplinary methods aren't working, and what to do instead. (Section 3)

Why Your Dog Chows Down Like It's Going Out of Style, and How to Use That to Your Advantage. (Section 4)

How often you should be feeing your dog. (Section 4)

What Your Dog Thinks When You Refill His Food Dish. (Section 4)

The reason he sleeps all day long and acts like he's insane when you come home. (Section 5)

Your Responsibility in Your Dog's Sleeping Habits. (Section 5)

What your dog is dreaming! (Section 5)

The #1 Point About Canine Territory. (Section 6)

What other dogs can find out about your dog... by sniffing his urine. (Section 6)

How to Know When Your Dog is Testing You, and How to Pass with Flying Colors! (Section 6)

The #1 rule about choosing a dog. (Section 7)

Why Breeds Act the Way They Do. (Section 7)

How to break your purebred of that nasty habit. (Section 7)

4 Training Commands and How to Use Instinct to Your Benefit. (Section 8)

Why some trainers' methods for teaching commands aren't practical. (Section 8)

3 Keywords You Should Use During Training. (Section 8)
Check out the format...
You'll agree that the best thing about this presentation is its look.
35 Minutes of Pure Audio Visual Gold - It's like a full colour, full screen movie right on your computer screen.

Great Illustrations - Fun, colorful characters (both human and canine) to act out the points in the presentation.

Animation - What good are cartoons if they don't move?

Upbeat, Clear Narration - No droning, boring lecture voice here!

Simple Structure - The presentation is divided into 9 distinct sections, so you can watch them all at once or in installments.

Easy Viewing - No clicking through websites or slides. The work is all done for you, you just sit back, watch, and relax!
Best of all...
It's totally digital!
That means...
You don't have to make room on your video shelves or in your CD wallet,

But you can burn it to a CD if you want (either one section or all of them),

You choose what you want to watch and when, and

The entire presentation is automated, which means you don't have to navigate anything while you're watching.
Digital Media is the Absolute Best Way to Go.
Sound pretty good so far?

Well I've left the Best Till Now!

This presentation typically sells for $67, which would normally be a fantastic bargain. Seriously, have you priced videos, books, or training courses recently? They're far more than that for far less content! But... because I believe you and your dog need this information, I want to twist your arm and convince you completely that you need to buy it immediately.
I'm going to knock another $20 off the price.
So for just $47 you can get
Instinct vs. Man - Why Your Dog Thinks and Acts the Way He Does
(I reserve the right to lift the price at anytime. So if you buy right now your guaranteed to get it at this price).
But let me throw in some Fantastic Bonuses for
FREE if you Act Right Now.
FREE Bonus
180 Gourmet Dog Recipes that
Even You can Enjoy!
Valued at $37.00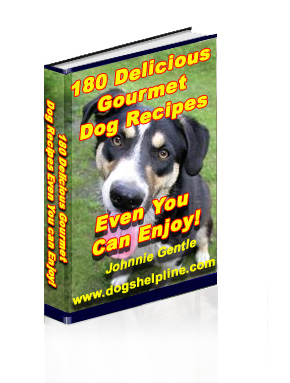 Included within this fantastic book...
22 Best Ways to "Start the Day" Breakfast Recipes (Page 8)

10 "Natural as Can Be" Recipes - A fantastic alternative to that huge bag of dry dog food (Page 31).

"Healing Canine Cure" Recipes - Let your dog eat their way to feeling on top of the world again. (Page 42)

50 "International" Recipes - I guarantee that your dog will never have tasted anything like these fantastic foods. (Page 50)

11 "Special Salivating Sauces" - Add a new twist to your dog's dinner. (Page 100)

5 "Mutt Mint" Recipes - The perfect remedies for Raunchy Breath. (Page 112)

17 Meaty Treats - The perfect way to say "Good Boy" (Page 118)

10 Delicious Cookie Recipes - Your dog is not the only one to enjoy these wonderful cookies (Page 136).

13 Dynamic Desserts - After dinner or anytime you think your dog needs something extra special (Page 147).

8 Celebration Recipes - Why not make it a special occasion for your pooch (Page 161).

9 Natural Puppy Food Recipes - Because puppies are more than just small dogs (Page 170).

10 Healing Beverages - Cool down your hot dog with these great recipes (Page 180).

9 Special Hygiene Recipes - Is that broccoli in your dog's teeth or are you just bad at brushing? (Page 190).
FREE Bonus #

The Secret to a Happy and Healthy Pooch. Your Questions Answered
Valued at $37.00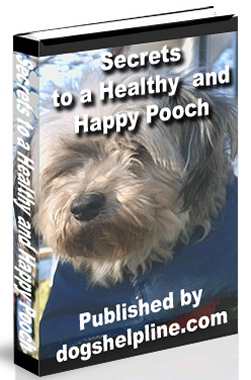 This book is a must read. Don't take your dog to the vet again before you have read this book.

Included within this great book.
Normal or Neurotic (page 4)
Kibbles and Bits and Bits (Nutrition and General health) (page 5),
The Hip Bone's Connected to the… (Skeletal Health and Disorders) (page 16),
Hey, Man, Gimme Some Skin! (Skin Health and Disorders) (page 21),
So Then the Dentist Says to the Alligator… (Dental Care) (page 27),
Don't Let the Bed Bugs Bite! (Parasites) (page 31),
Love is in the Air… and so are Germs (page 37),
Are You Sure He Doesn't Have the Plague? (page 44),
The C-Word (Cancer) (page 54),
Chicken Soup for the Poochy Soul (page 60),
PUPPIES?!?! I LOVE PUPPIES! (page 65),
Back When I Was a Pup… (page 74),
That Doghouse in the Sky (page 80),
ER: Doggie Style (First Aid and Emergencies) (page 86).
Now I want to stress that these fantastic bonuses are guaranteed ONLY for a limited time.

In order to guarantee that you get these free bonuses worth $74.00 you must order today!

But if you're still not sure, have a look at this:
My "Johnnie You Must Be CRaZy"
100% Total Satisfaction Hand Written Guarantee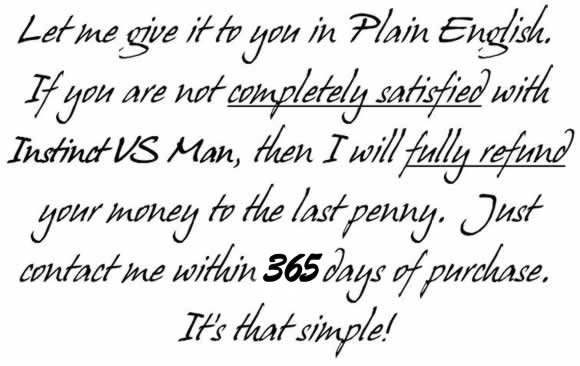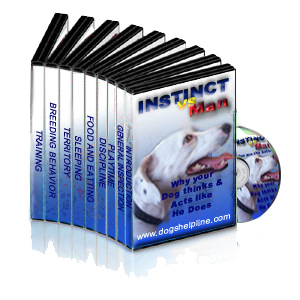 Right now for just $67.00
$47.00
You get...
Instict Vs Man- Why Your Dog Thinks and Acts the Way He Does.

Your Own Personal Desktop Buddy - To make your desktop more interesting and remind you of your best friend.

180 Gourmet Dog Recipes - The ultimate way to treat your dog to something special.

Secrets to Happy and Healthy Pooch - Before you take your do to the vet again, check this out First.

And if you're not totally thrilled, you get a 100% instant refund plus you get to keep all of the bonuses for free! (A $101.00 value!)

You have no risk whatsoever...so Order Now Via Our Secure Servers to get started right away! It doesn't matter what time of the day it is (Even if it's 2:00 in the morning).

P.S. Instinct vs. Man will give you the secret -- and the solution -- to your communication problems with your dog within a fun, interesting 35-minute audio visual presentation so you can go on to build a happy, mutually beneficial relationship.

P.P.S. DON'T FORGET – you have three months to be totally satisfied with this audio visual prenentations. If you decide that its information is not for you and your dog, then just write for a refund. No questions asked and you get to keep the bonuses (Valued at $74.00 -- Free). We want you to know that you can order Instinct vs Man risk-free!
Dog health care dog treats dog recipes dog health dog training dog breeds dog lovers resources dog care links dog articles